Space (Re)Planning
Proper space planning is key to functional design.  Our team will listen to you and make recommendations that meet your needs and can be executed during construction.
Design Aesthetic Consulting
Show us pictures of what you like and our designer, Margaret, will facilitate all the design decisions that make a project overwhelming.  She will help you select everything from lighting, cabinetry, tile, flooring, appliances, plumbing fixtures, hardware, paint color etc….  You will never need to worry about the details.
Product Sourcing
Our expertise and first-hand sourcing connections help you achieve your design vision in the most efficient and cost-effective way.  Our relationships with cabinet makers, building supply companies, lighting suppliers, appliance manufacturers and others benefit you.
Quality Construction
Our talented craftsmen treat your home like their home.  An eye for detail and a proactive approach to avoid problems is why our clients rave about our construction crew.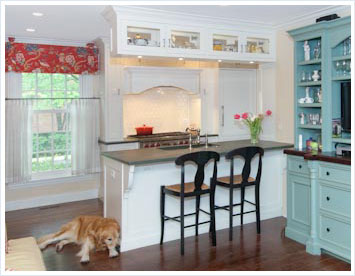 "I chose Margaret over other contractors because she brought her design skills to the project in addition to the contractor role.  She understood that every bit of space had to be functional as we downsized from a 4000+ sq. ft. home to a 2000 sq. ft. townhouse.  She listened to what I wanted and came up with unique solutions – like our custom Murphy beds"